The ZL9117M is a 17A, variable output, step-down PMBus-compliant digital power supply. Included in the module is a high-performance digital PWM controller, power MOSFETs, an inductor, and all the passive components required for a highly integrated DC/DC power solution. This power module has built-in auto-compensation algorithms, which eliminates the need for manual compensation design work. The ZL9117M operates over a wide input voltage range and supports an output voltage range of 0.6V to 3.6V, which can be set by external resistors or via PMBus. This high-efficiency power module is capable of delivering 17A. Only bulk input and output capacitors are needed to finish the design. The output voltage can be precisely regulated to as low as 0.6V with ±1% output voltage regulation over line, load, and temperature variations.
The ZL9117M features auto-compensation, internal soft-start, auto-recovery overcurrent protection, an enable option, and pre-biased output start-up capabilities.
The ZL9117M is packaged in a thermally enhanced, compact (15mmx15mm) and low profile (3.5mm) over-molded QFN package module suitable for automated assembly by standard surface mount equipment. The ZL9117M is Pb-free and RoHS compliant.
Figure 1 represents a typical implementation of the ZL9117M. For PMBus operation, it is recommended to tie the Enable pin (EN) to SGND。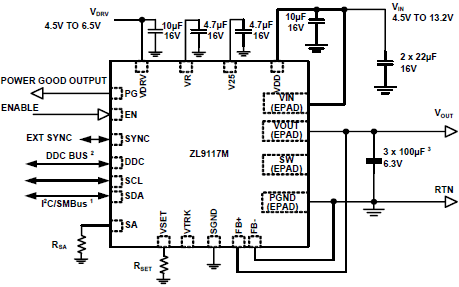 ZL9117M.pdf